Why should pooch (or kitty) be left out in the cold when it comes to "following the master"? And as for the kids, here are toys and games where the word "fun" is just the beginning of "fundamentalism".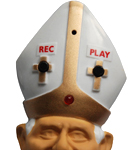 Gadgets for Papa Ratzi

Holy Father Emeritus! Add some ex-infalliblity to your life with our B16 gadgets.