OK... you want to be a witness for the Lord, but have you got your fire Bible, doorknocker and flip-flops? If not, check out the list below before you venture into the world.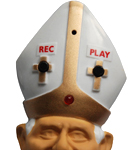 Gadgets for Papa Ratzi

Holy Father Emeritus! Add some ex-infalliblity to your life with our B16 gadgets.