It's so comforting to know there are religious products to take you from the cradle to the grave, isn't it? Do I hear an "amen"? So here are a few of our favourite gadgets of death.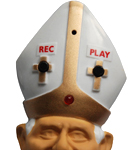 Gadgets for Papa Ratzi

Holy Father Emeritus! Add some ex-infalliblity to your life with our B16 gadgets.