223: God Trumps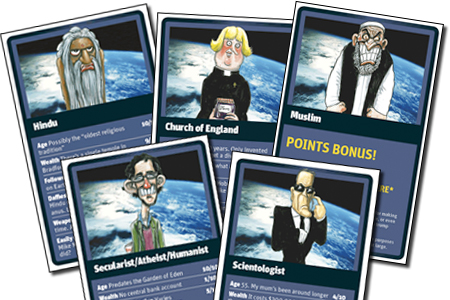 At last... 14 billion years after the Big Bang comes a sign that atheists are evolving a sense of humour. Our favourite secularists, the New Humanist magazine, are giving away their very own pack of God Trumps with every new subscription. "Struggling to choose the top religion?" asks the godless blurb. "Can't decide between Bible-thumping evangelism or benign, gentle Buddhism? Make the process fun and easy with God Trumps!"

There are some winning touches: the weapon of choice for JWs is listed as "foot in door", while for Anglicans it's "tutting loudly". Hinduism's daffiest doctrine is: "Cow worshipping. Hindu deity Devagana lives in the anus. Lucky him!" The Muslim card, which comes with a frothing mullah, trumps all others. And 6 out of 10 for the Secularist/Atheist/Humanist card, which shows a bearded Guardian reader, but surely misses a trick of poking fun at itself in the writing. Instead, it takes the opportunity to evangelise. Shame about that.

We're not sure if Jesus' injunction to "love your enemies" extends to buying a subscription to New Humanist, but just in case it does, get in now while God Trumps is its freebie. Just £21 for a year's subscription – click here!

Thanks be unto Catriona Cuthbert for alerting us to God Trumps.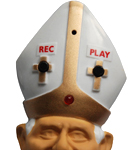 Gadgets for Papa Ratzi

Holy Father Emeritus! Add some ex-infalliblity to your life with our B16 gadgets.