125: The Rowan Bear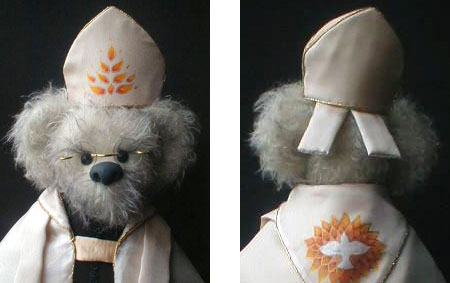 Portraits of the Pope have long been popular as an aid to devotions in Catholic homes. But now Anglicans can catch up with the inspirational and cuddly Rowan Bear, modelled on His Hairiness the Archbishop of Canterbury.

Produced by Madeley Bears from Redditch in the UK, the appropriately wild and fluffy Rowan Bear is made from tipped German mohair, stands 11 inches tall, and wears the right archepiscopal gear, complete with a cassock boasting 39 buttons – one for each of the Church of England's historic Articles of Religion.

"We recommend Prime Minister Tony Blair buys one for comfort because the real thing is unlikely to be quite so cuddly," says shipoffools.com co-editor Stephen Goddard, whose brainchild the bear is. Stephen was unable to confirm early rumours that the Rowan Bear growls several lines of Welsh poetry when his tummy is pressed.

Members of Reform and other traditionalists are already waiting to question the Rowan Bear about his attitudes to same-bear relationships.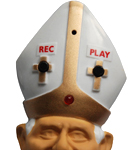 Gadgets for Papa Ratzi

Holy Father Emeritus! Add some ex-infalliblity to your life with our B16 gadgets.