Would Jesus have put Apocalypse barbecue sauce on his loaves and fishes? Or handed round the Testamints after the Sermon on the Mount? Most scholars say "yes". So eat and believe as you sample these incredible edibles.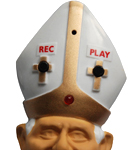 Gadgets for Papa Ratzi

Holy Father Emeritus! Add some ex-infalliblity to your life with our B16 gadgets.