Candles and incense might not be your thing. But even if you're not high church, isn't it time you considered going hi-tech? Drag your church kicking and screaming into the 21st century with these pew-shaking products.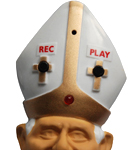 Gadgets for Papa Ratzi

Holy Father Emeritus! Add some ex-infalliblity to your life with our B16 gadgets.