What is this?

Since ancient times (ok, 1998), Ship of Fools has been sending Mystery Worshippers to churches worldwide. Travelling incognito, they ask those questions which go to the heart of church life: How long was the sermon? How hard the pew? How cold was the coffee? How warm the welcome?

The only clue they have been there at all is the Mystery Worshipper calling card, dropped discreetly into the collection plate.



If you would like to become a Mystery Worshipper, start here.

See our archive of reports

Famous/infamous
UK & Ireland
USA
Oz & NZ
Canada
Elsewhere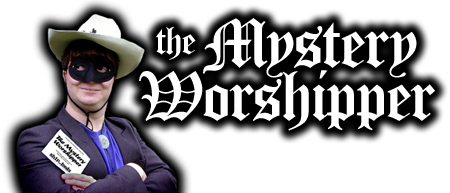 Recent reports


> Dichotomy at Saint Paul Community of Faith, Denver, USA
> Psalms and tomato sauce at City Temple, Holborn, London
> Absolutely stunning! St Silas the Martyr, Kentish Town
> A real oasis: St Margaret Lothbury, City of London
> Puppy but no parakeet: Great Malvern Priory, Malvern, UK


> Gratitude preached: St Michael & All Angels, Amberley, UK
> Peace at God's Country Cowboy Church, Loveland, USA
> Testing the faith at St Peter & St Paul, Godalming, UK
> Held in thrall at First Presbyterian, Oceanside, USA
> Swallowed up at St Anne's, Warsaw, Poland

> Fleecing the flock at Hope City Church, Hackney, London
> Squeaky shoes, aching knees: St Mary le Bow, London
> Good works at Northminster Presbyterian, Phoenix, USA
> Painful! Belmont Christian, Christiansburg, USA
> Reinvigorated at St Peter & St Paul, Chingford, London

> Communing in the rain at RC Chapel, Gilwell Park, UK
> Friendly but unreal: McKinney Church, Fort Worth, USA
> Love in the air at Sankta Maria Domkyrka, Visby, Sweden
> Schism averted at Clapham Methodist, London
> Musical chairs played at St Saviour's, Brockenhurst, UK


Editor's choice


> Dichotomy at Saint Paul Community of Faith, Denver, USA
> Rector pays it forward at St Peter, Upper Beeding, UK
> Perfect! Chapel Royal of St Peter ad Vincula, London
> Bodyguard for priest at St Patrick's Cathedral, NYC
> Organ speaks at St Malachy's, New York City


Comments, corrections and removals


For the latest comments on and corrections to Mystery Worshipper reports, please go here. Reports over two years old can be removed at the request of the church reviewed. Please email here for further details.



We rely on voluntary donations to stay online. If you're a regular visitor to Ship of Fools, please consider supporting us.




The Rapture

On 1 April 2016 it finally happened, and our Mystery Worshipper was among the Chosen Few. Read all about how songwriter Irving Berlin figured into it as you weep and gnash your teeth.




The best of Torold

The Mystery Worshipper known as Torold, among other names, passed on to glory in November 2015. Her sharp eye and quick wit brought much pleasure to our readers and will be missed. See a representative sampling of the best of her reports.


Easter 2016

This Holy Week, our Mystery Worshippers went on a moon walk with Jesus, enjoyed the antics of the church cat, breathed in lavender scented incense, and finished off with a "cheerfully sweet" Easter! Read all about how they got through it.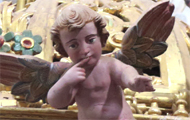 The Mystery Pilgrim

One of our most seasoned reporters makes the Camino pilgrimage to Santiago de Compostela in Spain. Read here.