What is this?

Since ancient times (ok, 1998), Ship of Fools has been sending Mystery Worshippers to churches worldwide. Travelling incognito, they ask those questions which go to the heart of church life: How long was the sermon? How hard the pew? How cold was the coffee? How warm the welcome?

The only clue they have been there at all is the Mystery Worshipper calling card, dropped discreetly into the collection plate.



If you would like to become a Mystery Worshipper, start here.

See our archive of reports

Famous/infamous
UK & Ireland
USA
Oz & NZ
Canada
Elsewhere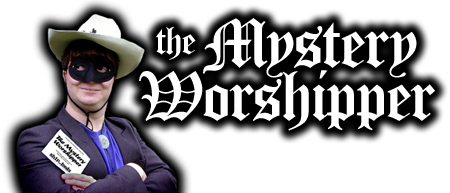 Recent reports

> Mystery bread at Transfiguration Cathedral, Cluj, Romania
> One gets away at Immanuel Lutheran, Oceanside, USA
> Episcopalian or Presbyterian? St Aidan's, Ann Arbor, USA
> Latin or Hungarian? Szent István Bazilika, Budapest
> Stale jokes at Everyday Church, Clapham, London

> Clergy sword-fight at All Saints, West Dulwich, London
> No misbehaving at King's College Chapel, Cambridge, UK
> Swinging and swaying at St Mark's, Swindon, UK
> Getting the shivers at Incarnation, Harrisonburg, USA
> Crucifer flinches at St Clare of Assisi, Surprise, USA

> Verger but no virge at All Saints, Sun City, USA
> Nails thrown at St Andrew's, Brockley, London
> Miserere disappoints at St John's Smith Square, London
> Service booklet disappears at St George's, Berlin, Germany
> Totally charmed at St Mary & St John, Cambridge, USA

> Great camaraderie at St Dunstan and All Saints, London
> Lovely hymn at Emmanuel Episcopal, Harrisonburg, USA
> Unfinished haircut at Roosevelt Community, Phoenix, USA
> Dean strips at St David's Cathedral, Hobart, Oz
> Warmed at Community of St Anselm, Lambeth Palace

Editor's choice

> Warmed at Community of St Anselm, Lambeth Palace
> Liturgical Performance at St Paul's Cathedral, London
> New curate licensed at St Mary's, Liverpool, UK
> Act of Worship at Cambridge Theological Federation, UK
> Fools for Christ at All Saints, Haggerston, London

Comments, corrections and removals

For the latest comments on and corrections to Mystery Worshipper reports, please go here. Reports over two years old can be removed at the request of the church reviewed. Please email here for further details.



We rely on voluntary donations to stay online. If you're a regular visitor to Ship of Fools, please consider supporting us.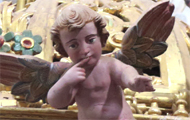 The Mystery Pilgrim

One of our most seasoned reporters makes the Camino pilgrimage to Santiago de Compostela in Spain. Read here.




Easter 2017

Join our Mystery Worshippers – "meek members of the Resurrection" – as they brave rocking rectors and flinching acolytes, small pipes and short-of-breath trumpeters, impish monks and virgeless vergers – and, to top it all off, bad haircuts!





The best of Torold

The Mystery Worshipper known as Torold, among other names, passed on to glory in November 2015. Her sharp eye and quick wit brought much pleasure to our readers and will be missed. See a representative sampling of the best of her reports.