What is this?

Since ancient times (ok, 1998), Ship of Fools has been sending Mystery Worshippers to churches worldwide. Travelling incognito, they ask those questions which go to the heart of church life: How long was the sermon? How hard the pew? How cold was the coffee? How warm the welcome?

The only clue they have been there at all is the Mystery Worshipper calling card, dropped discreetly into the collection plate.



If you would like to become a Mystery Worshipper, start here.

See our archive of reports

Famous/infamous
UK & Ireland
USA
Oz & NZ
Canada
Elsewhere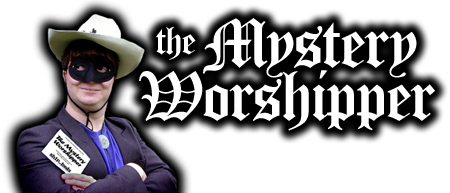 Recent reports


> Nice but no pancakes at Old North Church, Boston, USA
> Moved to tears at Old South Church, Boston, USA
> Reasonably traditional: St Martin's, Davis, USA
> Quizzed on sermon at Westminster Chapel, London
> Incense but no toe dipping at Holy Trinity, Chicago, USA

> Wow! St Paul's, Chicago, USA
> Hissing masks sermon at St James, Sault Ste Marie, USA
> On my own at St John the Evangelist, Barrhead, Scotland
> Karaoke (but nothing crazy) at Singapore Cathedral
> Santa appears at Shepherd of the Desert, Sun City, USA

> It just felt right: Great St Martin, Cologne, Germany
> They love their church: St Henry's, Chicago, USA
> Decent and orderly: Broome Anglican Church, Broome, OZ
> Unbeatable! St Paulís Pro-Cathedral, Valletta, Malta
> Concert or service? Trinity Church, Bay City, USA

> One prayer or three? St Gregory, Cheltenham, UK
> Powerful worship at All Saints, Belfast, Northern Ireland
> Welcome & warmth at St Andrew's, Bethune Road, London
> Old Catholic or not? Schiphol Airport Chaplaincy, Amsterdam
> Sidesman annoys at St James Cathedral, Toronto, Canada


Editor's choice


> Nice but no pancakes at Old North Church, Boston, USA
> Cake and fireworks at Laird Street Baptist, Birkenhead, UK
> Incense triggers alarm: Blessed Sacrament Shrine, USA
> Well done, Vicar! St Stephen, Birkenhead, Wirral, UK
> Nautical and nice: St Nicholas with All Saints, Wallasey, UK


Comments, corrections and removals


For the latest comments on and corrections to Mystery Worshipper reports, please go here. Reports over two years old can be removed at the request of the church reviewed. Please email here for further details.



We rely on voluntary donations to stay online. If you're a regular visitor to Ship of Fools, please consider supporting us.



The best of Torold

The Mystery Worshipper known as Torold, among other names, passed on to glory in November 2015. Her sharp eye and quick wit brought much pleasure to our readers and will be missed. See a representative sampling of the best of her reports.




Easter 2015

Our Mystery Worshippers had a busy Holy Week: being poked with umbrellas, spotted but ignored, taking in glorious polyphony, and hearing the Resurrection compared to popcorn! Read all about how they got through it.





Christmas 2014

On Christmas Day 2014, our Mystery Worshippers ding-donged merrily their way to both of Liverpool's cathedrals as well as to churches in New Zealand, Arizona, Colorado and Texas. Read all about how the herald angels sang for them.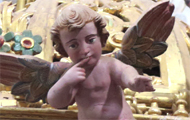 The Mystery Pilgrim

One of our most seasoned reporters makes the Camino pilgrimage to Santiago de Compostela in Spain. Read here.