What is this?

Since ancient times (ok, 1998), Ship of Fools has been sending Mystery Worshippers to churches worldwide. Travelling incognito, they ask those questions which go to the heart of church life: How long was the sermon? How hard the pew? How cold was the coffee? How warm the welcome?

The only clue they have been there at all is the Mystery Worshipper calling card, dropped discreetly into the collection plate.



If you would like to become a Mystery Worshipper, start here.

See our archive of reports

Famous/infamous
UK & Ireland
USA
Oz & NZ
Canada
Elsewhere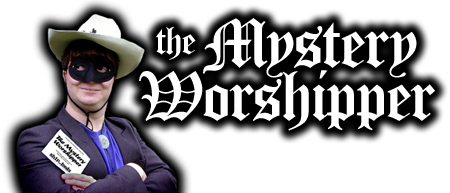 Recent reports

> Mopping up at Church of Desert, Twentynine Palms, USA
> Friendly and inspiring: St James, Temple Sowerby, UK
> In need of prayer (and dogs): Epiphany, New York City
> Beautiful and unique: St Peter's, Kirkwood, USA
> Not pretty in pink: Canada Water Church, London

> Nautical and nice: St Nicholas with All Saints, Wallasey, UK
> Youth group dances at St Jerome, Chicago, USA
> Very much at home at St George's, Venice, Italy
> Delightfully transparent: St John's, Worthington, USA
> No cuppa for me: Pacifica Theatre, MS Brilliance of the Seas

> More Catholic than Anglo: St Mark's, Honolulu
> Owl in the belfry: Our Lady of Lourdes, Sun City West, USA
> Archdeacon sleeps at St John's, Lauli'i, American Samoa
> Warm service, cold welcome: St Andrew Cathedral, Honolulu
> Very friendly, great coffee: Holy Undivided Trinity, Edale, UK

> Hullabaloo & warm welcome at St James West Hampstead
> Headless drummer at Shanklin URC, Isle of Wight
> Door closes on me at St George on Yonge, Toronto
> Impressive: Jesus Army, Northampton, UK
> An afternoon to remember: St Peter's, Stockport, UK

Editor's choice

> Nautical and nice: St Nicholas with All Saints, Wallasey, UK
> Transcendent moment at Grace Cathedral, San Francisco
> Flat, lacklustre last day at St Bernadette's, Liverpool, UK
> Relaxed and at home: Cathédrale Notre-Dame, Paris
> Dedication remembered: Little Flower Shrine, Royal Oak, USA

Comments, corrections and removals

For the latest comments on and corrections to Mystery Worshipper reports, please go here. Reports over two years old can be removed at the request of the church reviewed. Please email here for further details.



We rely on voluntary donations to stay online. If you're a regular visitor to Ship of Fools, please consider supporting us.



Easter 2015

Our Mystery Worshippers had a busy Holy Week: being poked with umbrellas, spotted but ignored, taking in glorious polyphony, and hearing the Resurrection compared to popcorn! Read all about how they got through it.




Christmas 2014

On Christmas Day 2014, our Mystery Worshippers ding-donged merrily their way to both of Liverpool's cathedrals as well as to churches in New Zealand, Arizona, Colorado and Texas. Read all about how the herald angels sang for them.




Love Jesus and his gospel

Our MW team attends the ordination to the priesthood, and previous to that the profession of final vows and ordination to the diaconate, of our Shipmate Hart and his fellow seminarian Patrick. Share in the joy of the day from our special vantage point.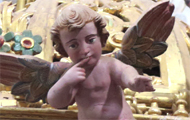 The Mystery Pilgrim

One of our most seasoned reporters makes the Camino pilgrimage to Santiago de Compostela in Spain. Read here.