What is this?

Since ancient times (ok, 1998), Ship of Fools has been sending Mystery Worshippers to churches worldwide. Travelling incognito, they ask those questions which go to the heart of church life: How long was the sermon? How hard the pew? How cold was the coffee? How warm the welcome?

The only clue they have been there at all is the Mystery Worshipper calling card, dropped discreetly into the collection plate.



If you would like to become a Mystery Worshipper, start here.

See our archive of reports

Famous/infamous
UK & Ireland
USA
Oz & NZ
Canada
Elsewhere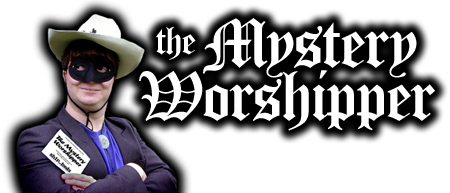 Recent reports

> Faith taken seriously at Balham Baptist, London
> Cheerful and confident at Tarragona Cathedral, Spain
> Begging the question at Church of Christ, Peoria, USA
> No false pretenses at The Bear Church, Deptford, London
> Cliques and a shofar at Oasis, Port Elizabeth, South Africa

> Friendly and familiar: St Botolph's, Lullingstone, UK
> Mellifluous tones at St Michael & All Angels, Beckenham, UK
> Memories at St Paul's Mission, Staatsburg, USA
> Thumbs twiddled, noses blown at Wormser Dom, Germany
> Old-fashioned feel to St Luke's, Wimbledon Park, London

> Children welcome at St Mary's, Foxboro, USA
> Mistaken for pastor at St Lucas, Toledo, USA
> Brass but no peach yoghurt at St Mary's, Chartham, UK
> Hats but no prophecy at Baptist Church, Chelmsford, UK
> Wonderful welcome at London Street URC, Basingstoke, UK

> No acceptable sin at Maranatha Baptist, Peoria, USA
> Priest floats away at Charity/Augustine, Daventry, UK
> Joy in my heart at St Paul's, Seahouses, UK
> Cold and lifeless: Our Savior, Sun City, USA
> Upper lip trembles at Christ Church, Lichfield, UK

Editor's choice

> Bishop consecrated: Duke University Chapel, Durham, USA
> Quiet reflection: Pride Service, Bristol Cathedral, UK
> Palpable sense of God at Ordination, Birmingham Cathedral
> High as it gets: Alban Pilgrimage, St Albans Cathedral, UK
> Ordination, Methodist style: Desert SW Conf., Glendale, USA

Comments, corrections and removals

For the latest comments on and corrections to Mystery Worshipper reports, please go here. Reports over two years old can be removed at the request of the church reviewed. Please email here for further details.



We rely on voluntary donations to stay online. If you're a regular visitor to Ship of Fools, please consider supporting us.




Pilgrimage to Walsingham

Ever wanted to be close to heaven? Journey with our Mystery Worshipper to one of the UK's most sacred places. Recline with him on the springy North Norfolk earth and judge for yourself which bishop wears the better vestments.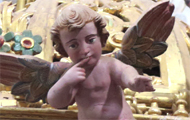 The Mystery Pilgrim

One of our most seasoned reporters makes the Camino pilgrimage to Santiago de Compostela in Spain. Read here.




Easter 2017

Join our Mystery Worshippers – "meek members of the Resurrection" – as they brave rocking rectors and flinching acolytes, small pipes and short-of-breath trumpeters, impish monks and virgeless vergers – and, to top it all off, bad haircuts!




The best of Torold

The Mystery Worshipper known as Torold, among other names, passed on to glory in November 2015. Her sharp eye and quick wit brought much pleasure to our readers and will be missed. See a representative sampling of the best of her reports.