What is this?

Since ancient times (ok, 1998), Ship of Fools has been sending Mystery Worshippers to churches worldwide. Travelling incognito, they ask those questions which go to the heart of church life: How long was the sermon? How hard the pew? How cold was the coffee? How warm the welcome?

The only clue they have been there at all is the Mystery Worshipper calling card, dropped discreetly into the collection plate.



If you would like to become a Mystery Worshipper, start here.

See our archive of reports

Famous/infamous
UK & Ireland
USA
Oz & NZ
Canada
Elsewhere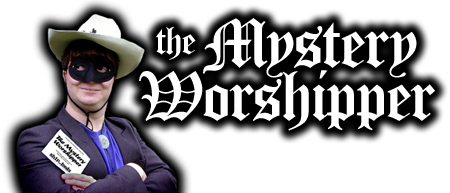 Recent Reports


> Sarum use disappoints: Christ Church, Bronxville, USA
> Unpack your bags! Living Faith Fellowship, Phoenix, USA
> New priest's first mass at Incarnation, Dallas, USA
> Hellish becomes heavenly at St Gabriel's, Cave Creek, USA
> I could have used a stretch: St Johns, Highton, Australia

> Warm welcome and generous sprinkling: St Luke's, NYC
> Anthem startles congo: St Michael & All Angels, Dallas, USA
> Fast talk but no bopping at St Bernard's, Belmont, Australia
> Welcome and calm at Christ Church Cathedral, Vancouver
> Friendly welcome at San Ignacio, Buenos Aires, Argentina

> Distracted by robbery: Cathedral, Buenos Aires, Argentina
> Busy saint at San Telmo, Buenos Aires, Argentina
> Musical magic at San Roque, Buenos Aires, Argentina
> Good enough to bring a friend: Incarnation, Dallas, USA
> Easter pageant at St Leonardís, Savusavu, Fiji

> A road that few take: Baroness Thatcher's funeral, London
> God's love evident at HTB Brompton Road, London
> Nice: Blairgowrie Evangelical, Blairgowrie, UK
> Surprises and tears at St Andrew's Chapel, RM Poole, UK
> As I like it: St James, Stratford, Ontario, Canada


Editor's choice


> New priest's first mass at Incarnation, Dallas, USA
> A road that few take: Baroness Thatcher's funeral, London
> Absurd become reasonable: Archbp of Canterbury installed
> Who cast the deciding vote? Conclave of Cardinals, Vatican
> "You're joking!" Don Bosco's relics at Liverpool Met, UK


Comments, corrections and removals


For the latest comments on and corrections to Mystery Worshipper reports, please go here. Reports over two years old can be removed at the request of the church reviewed. Please email here for further details.



We rely on voluntary donations to stay online. If you're a regular visitor to Ship of Fools, please consider supporting us.



Street robberies and busy saints

The Mystery Worshipper calls in on Pope Francis's old patch in Buenos Aires and finds pearls and Prada, hugs and kisses, priests in mufti and prayers to San Cayetano for bread and work. Read here.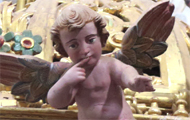 The Mystery Pilgrim

One of our most seasoned reporters makes the Camino pilgrimage to Santiago de Compostela in Spain. Read here.



London churches

Read reports from 70 London churches, visited by a small army of Mystery Worshippers on one single Sunday. Read here.