61: Mormon doorknocker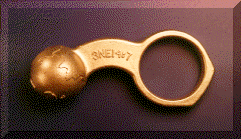 OK, it looks like something a mafioso might wear – or something your family planning adviser might suggest – but be not afraid! Allow the Doorknocker Company to introduce this Mormon gadget: "Knocking doors all day makes for sore knuckles. Many missionaries will tell you they carried a stone, golf ball or coin to knock doors. But the Missionary DoorKnocker helps to stop the long months of knuckle pounding" (and no, that's not a euphemism).

For as little as $6, you can own your very own DoorKnocker, and apparently you can even make it a family tradition and pass it on to your kids when they too become Mormon missionaries. DoorKnockers come in Brass or Silver Aluminum along with a velvet carrying pouch.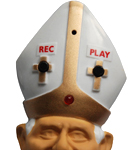 Gadgets for Papa Ratzi

Holy Father Emeritus! Add some ex-infalliblity to your life with our B16 gadgets.