236: May 21, 2011 bumper sticker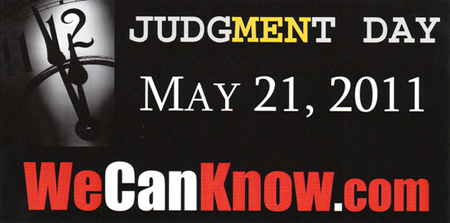 Notable biblical scholar Harold Camping (you couldn't make it up) has determined after a close study of the scriptures that Jesus will return to rapture his people on May 21, 2011. He's reached that conclusion by juggling the date of Jesus' crucifixion (previously unknown, but praise be! revealed to Mr Camping as precisely April 1, AD33) with the numbers 5, 10 and 17, which are apparently linked with atonement, completeness and heaven.

The details of the calculation are too wonderful and mysterious to go into right now, but the glorious news is that a date has finally been set for the rapture and last judgment, after 2,000 years of delays and rescheduling. Now is the time to plan your vacation around the event, and also to reach out to the wicked heathen driving the car behind you with this timely bumper sticker.

See you on a nearby cloud on May 21, but in the meantime, spread the word!

Price: completely free, so long as you agree to "distribute these materials wisely". Click here to order.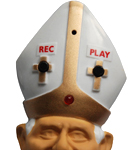 Gadgets for Papa Ratzi

Holy Father Emeritus! Add some ex-infalliblity to your life with our B16 gadgets.