162: Jesus flogged lights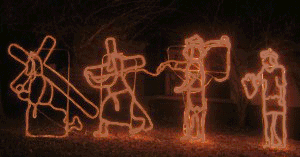 It wouldn't be Christmas unless we blissfully burned up limited reserves of non-renewable energy. After all, the shepherds had angelic hosts, the wise men had a star – so bring on those flashing, rooftop Santas.

At least in Blue Springs, Missouri, they've gone beyond the usual fare. Passing motorists are invited to rubberneck the blood-soaked scourging of Christ – a Mel Gibson-inspired Bible belting of truly epic proportions. Like it or loathe it, it's a discussion starter and earns this year's top award.

Click here to order! For added authenticity, click below...



Thanks to Ann for finding this gadget.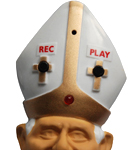 Gadgets for Papa Ratzi

Holy Father Emeritus! Add some ex-infalliblity to your life with our B16 gadgets.