48: Almighty pager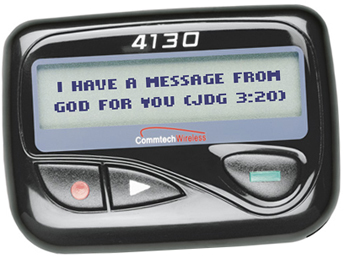 You're in a business meeting. Suddenly the pager in your pocket starts bleeping. Loudly. Insistently. You pause in your presentation, press one of the tiny buttons and check the message on the screen. "I'm sorry," you tell the meeting, "but I must take this. It's from the top." A gasp of admiration goes round the room. Yes, you have just been paged direct by God.

For just $5 per month, Pure Vision Ministries will send a regular supply of 20 Bible verses to your pager, anywhere in the US. "By receiving pages from God," says the sales pitch, "you will not only learn the Bible, but you will be able to share the messages with others." And not only that – just imagine the impact of being bleeped awake out of a deep sleep to read: "Be still and know that I am God." The Almighty Pager... God's way of making space in your busy business schedule.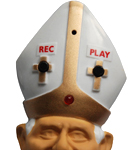 Gadgets for Papa Ratzi

Holy Father Emeritus! Add some ex-infalliblity to your life with our B16 gadgets.