198: Jesus Chair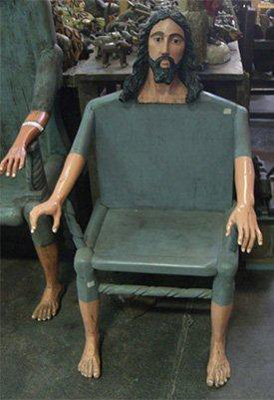 Leaving things in the lap of the gods just got a whole lot easier – thanks to Nim Pot Centro De Textiles in Antigua, Guatemala. "Retailing at just under US $700 (£370), the chair's price probably reflects its pretensions to divinity," claims Irishman Matt Hamilton in his travelogue.

"Towards the back of the incense-enveloped shop" (where Matt and a fellow student Trish found this treasure on earth) "is the wood-carving section. It was to here Trish had brought me and where I now stood, transfixed by the awfulness of the store's most expensive chair."

Surely not, Matt. Consider yourself honoured among men for being one of the first to behold a crouching Christ. The rest of us must now journey long to see that of which we have heard.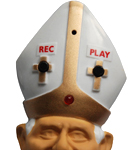 Gadgets for Papa Ratzi

Holy Father Emeritus! Add some ex-infalliblity to your life with our B16 gadgets.