148: Ten Commandments blanket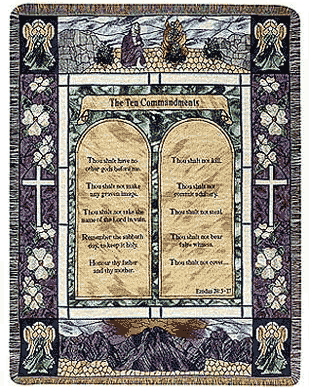 What a blessing to married couples! Imagine waking up each morning snuggled under the 10 Commandments throw blanket, with the admonitions of Moses so handy. "Thou shalt not covet... more than your share of the bedcover." "Thou shalt not kill... even when your partner's snoring tops 100 decibels."

And it's such a blessing to cohabiting couples, too. Those words, "Thou shalt not commit adultery" are guaranteed to stop fornication dead in its tracks!

Buy the Ten Commandments Throw Blanket (machine washable 100% triple layer cotton) for yourself or as a guilt-inducing gift for someone who's currently (and contentedly) living in sin.

Only $58.99. Click here to order.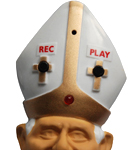 Gadgets for Papa Ratzi

Holy Father Emeritus! Add some ex-infalliblity to your life with our B16 gadgets.