154: Holy Trinity Lego set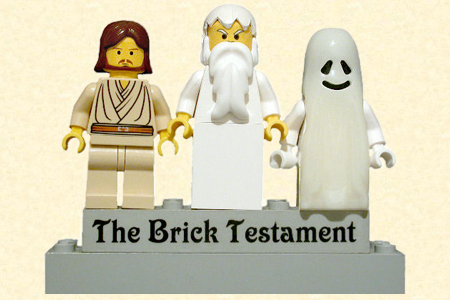 Serious Bible translators have been at it for decades – exorcising from public consciousness the AV's irresponsible but highly entertaining translation of the Greek word pneuma. They insist it should read "Holy Spirit", not "Holy Ghost". But now, thanks to The Brick Testament, all their work has been in vain. Before our disbelieving eyes, the third member of the Godhead materializes as a cheery, Halloween pumpkin with pernicious anaemia.

Buy the astonishing, theologically incorrect Holy Trinity three-pak ("made from 100 per cent Lego parts") and then prepare for a lifetime explaining to your children and grandchildren how the Holy Ghost isn't really a ghost, as such, but, er, well, more like, er...

Only $30. Click here to order.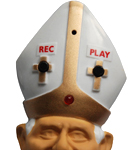 Gadgets for Papa Ratzi

Holy Father Emeritus! Add some ex-infalliblity to your life with our B16 gadgets.