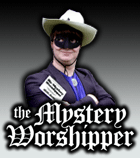 See our archive of reports
Famous/infamous
UK & Ireland
USA
Oz & NZ
Canada
Elsewhere

If you would like to become a Mystery Worshipper, start here.
Sum of a preacher man: Mystery Worshippers time the length of London's sermons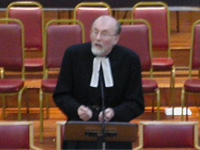 If you like your sermon short and to the point, go Anglican. If you like your homilies at industrial strength, learn French! That's the message learned by almost 70 Mystery Worshippers as they timed sermons across London on 24th April.

The tub-thumping mega message is still being preached each week in the capital – but you'll probably need to seek out one of the smaller denominations for the experience. In fact, the longest sermon in London took a rump-wearying one hour and 20 minutes – and was delivered in French at Pierres Vivantes in Hyde Park.

At Westminster Chapel, Buckingham Gate, one Mystery Worshipper reports how a dog sat through a sermon 52 minutes long.

"The preacher said some good stuff," admits Hurdy Gurdy (all Mystery Worshippers adopt a pseudonym), "but I kept checking my watch and began praying for the end. At least it got me praying."

The Church of England delivered the most compact sermons – six of the Top 10 shortest sermons were delivered during Anglican services. The average sermon length across all the churches visited was 20 minutes 31 seconds.


10 churches preaching longest sermons


80 mins: Pierres Vivantes, Hyde Park
60 mins: Kingsway International Christian Centre, Hackney
53 mins: Hillsong, Dominion Theatre, Tott Court Rd
52 mins: Westminster Chapel, Buckingham Gate
45 mins: The Reedemed Christian Church of God, Tooting
43 mins: Covent Garden Evangelical, Neal St
42 mins: Metropolitan Tabernacle, Elephant and Castle
35 mins: West Croydon Baptist
35 mins: Church of the Nazarene, Clapham Junction
34 mins: Westbourne Grove Independent Baptist, Notting Hill


10 churches preaching shortest sermons


5 mins: Hinde Street Methodist, Marylebone
5 mins: St Alfege, Greenwich
6 mins: Westminster Abbey
6 mins: St Margaret's, Westminster
6 mins: St Stephen's, Lewisham
7 mins: St John the Evangelist, Waterloo
7 mins: Brompton Oratory, Kensington
8 mins: Our Lady and St Joseph, Hackney
8 mins: American Church in London, Tott Ct Rd
8 mins: St Mary the Virgin, Hayes, Middx


Churches where no sermon was preached


Westminster Cathedral
St Mary the Virgin, Bourne St, Chelsea
St Paul's Cathedral
Moot at St Matthews, Westminster
Chelsea Old Church, Chelsea



We rely on voluntary donations to stay online. If you're a regular visitor to Ship of Fools, please consider supporting us.



Easter 2010

From Yunnan in China to Louisville in Kentucky, we report on Easter services, 2010. Read here.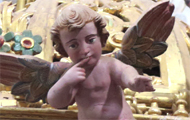 The Mystery Pilgrim

One of our most seasoned reporters makes the Camino pilgrimage to Santiago de Compostela in Spain. Read here.