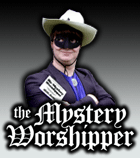 Comment on this report, or find other reports.

Our Mystery Worshippers are volunteers who warm church pews for us around the world. If you'd like to become a Mystery Worshipper, start here.

Find out how to reproduce this report in your church magazine or website.
1023: Kingsway International Christian Centre, Hackney, London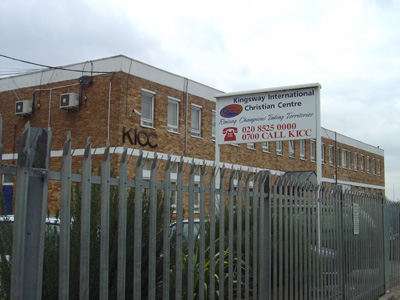 Mystery Worshipper:
Mark Wuntoo.

The church:
Kingsway International Christian Centre, Hackney, East London.

Denomination:
Independent Pentecostal.
Comments: We have received a comment about this report.

The building:
The Kingsway International Christian Centre, spread over 9.5 acres, includes two extensive car parks, a substantial complex of offices, and a giant converted warehouse with seats for 5000 worshippers. The whole site is enclosed with high and spiky iron fencing. Inside, the sanctuary is plainly decorated: the roof supports, painted in the design of white Doric columns, contrast nicely with the dark red painted brick walls. The plain lectern could have come straight out of a lecture theatre. There are no Christian symbols of any kind that I could see, although the wall behind the stage bore 38 national flags. State-of-the-art technology included several roving video cameras and a very large balanced-boom camera that was made to swing dangerously close to people's heads. The stage was lit by an extensive array of lights and there were numerous loudspeakers and sound reflection panels hanging from the ceiling. The proceedings were projected onto large screens on either side of the stage area.

The church:
KICC (as it is popularly known throughout East London) claims to be 'the largest independent church in Europe.' The majority of the membership is under 50 years of age and is predominantly of West African origin, although it is claimed that worshippers come from 46 nations. KICC boasts that it is engaged in 'raising champions, taking territories.' Every member is expected to be an evangelist and to 'grow, glow and go all out for Jesus.' Members of the church regularly visit hospitals, hospices and prisons. The church offers a counselling service, career advice and legal advice by appointment.

The neighbourhood:
KICC sits rather like a giant ship stranded amongst the flotsam and jetsam of a deserted island. The surrounding semi-derelict industrial area, which once included the famous Hackney Greyhound Racing Stadium, is sandwiched between the River Lea, the Hackney Marshes, the Hackney Cut of the Grand Union Canal and a main approach to the Blackwall Tunnel under the River Thames. The nearest human habitation is several miles away; the only local residents are the assorted urban mammals, water life and wild flowers.

The cast:
Well, God was at the helm (as captain of this ship whether by choice or having been "signed-on"). The preacher (ship's chaplain) was Assistant Pastor Dipo and the worship leader (ship's purser) was Sister Sajowa. Senior Pastor Matthew Ashimolowo (ship's first officer) was on shore leave this evening.


What was the name of the service?

Evening Service, the last of five services which today included two morning services, a French-speaking service and a youth service.


How full was the building?

By the time worship began, several hundred crew and passengers had embarked and were still arriving 90 minutes into the proceedings. The ship's final roll-call numbered about 1500;: there were 500 deck chairs left empty.


Did anyone welcome you personally?

I wasn't invited to sit at the captain's table but neither was I confined to the ship's bilges. A few friendly 'welcome aboards' were offered along with a handshake, but no fussing.


Was your pew comfortable?

My deck chair was fully padded and the angle of the back was just right for comfort.


How would you describe the pre-service atmosphere?

The keyboard player was fiddling quietly whilst people gathered. There was plenty of movement and greeting, but any noise was lost in the vast ship's quarters.


What were the exact opening words of the service?

"All ashore that's going ashore" – oops, I mean "Hallelujah! Good evening, ladies and gentlemen."


What books did the congregation use during the service?

Despite all the video equipment, no books were available and no words were projected, so we had to listen to the worship leader lining the words whilst we sang the previous line. Unfortunately, she shouted so loud over the singing that it was impossible to hear most of what she said.


What musical instruments were played?

Two banks of keyboards, a bass guitar, and a complete set of drums, all amplified. There were also five lead singers (ship's petty officers).


Did anything distract you?

The preacher held the microphone too close to his mouth, so it was often difficult to distinguish his words from the many pops and hisses. In addition, he sometimes spoke in a whisper and sometimes shouted. As I have difficulty interpreting a heavy West African accent, much of the sermon went overboard. The mobile phone of the man next to me played a stupid tune several times, although he had the good sense not to answer it.


Was the worship stiff-upper-lip, happy clappy, or what?

It felt like a severe gale force nine; only a substantially built vessel would stand up to this form of worship. People's whole bodies were engaged in trying to get the ship under way for a worthwhile and enjoyable voyage of praise: arms waving, legs dancing, voices at full pitch. There was a "praise shout" and a "praise clap," so God certainly must have noticed and I think probably was smiling and happy with it all.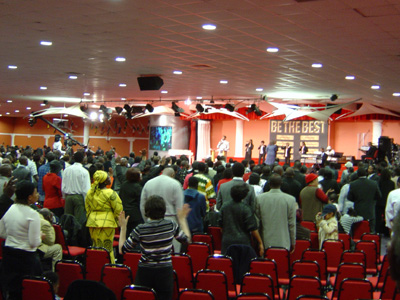 Exactly how long was the sermon?

60 minutes.


On a scale of 1-10, how good was the preacher?

6 – Pastor Dipo spoke with passion. He gave humorous asides which obviously were meaningful for the congregation but I did not understand many of them. He walked around a great deal, repeatedly wiping his perspiring face.


In a nutshell, what was the sermon about?

The subject was "Breaking through from a wilderness mentality." The wilderness is the place in between the old life and the Promised Land. It is a place of instability, uncertainty, rough living, wandering and thirst. The wilderness mentality can lead to forgetting our inheritance and a sense of not being worthy of the blessing of God. Our desire should be for water, stability, for "our ship to come to shore" (yes, he really said it). We need to set our sights on better things. Tonight is a night of deliverance and freedom when a river will come into the desert of our life. God can deliver us, although we need to take responsibility for our actions.


Which part of the service was like being in heaven?

I liked the different variations of the song "Things are getting better" sung with beautiful harmonies and accompanied by typical African dance. Heavenly, even if I did not appreciate all of the theology!


And which part was like being in... er... the other place?

I have an aversion to national flags, so their prominence annoyed me.It disturbed me that so many very young children were present at such a late hour, and I could not see that any parent had brought anything to keep their child occupied. It was not surprising that some got rather fractious, although many were exceptionally quiet and calm.


If intercessory prayers were said, what issues were raised?

There were no prayers for the Pope, the general election, or anyone or anything outside of the ship's immediate business.


What happened when you hung around after the service looking lost?

There was nowhere to hang around. With so many people disembarking and anxious to get ashore to their cars, there was no room for socialising.


How would you describe the after-service coffee?

At 9.30pm the galley had long closed, so no coffee.


How would you feel about making this church your regular (where 10 = ecstatic, 0 = terminal)?

2 – If I were in the spiritual doldrums, I might find some high wind here for my sails. If I were looking for a calm voyage, though, I'd steer well clear. To sail with this ship would be costly in time, talent and money. I'll not be embarking.


Did the service make you feel glad to be a Christian?

Indeed, it did ' for the time being ' but I don't know how long it would last when I've been thrown up on the beach in the morning.


What one thing will you remember about all this in seven days' time?

I shall remember the radiant face of Sister Sajowa, a truly great ambassador for the faith.



We rely on voluntary donations to stay online. If you're a regular visitor to Ship of Fools, please consider supporting us.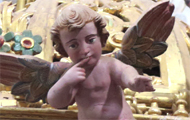 The Mystery Pilgrim

One of our most seasoned reporters makes the Camino pilgrimage to Santiago de Compostela in Spain. Read here.



London churches

Read reports from 70 London churches, visited by a small army of Mystery Worshippers on one single Sunday. Read here.