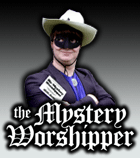 See our archive of reports
Famous/infamous
UK & Ireland
USA
Oz & NZ
Canada
Elsewhere

If you would like to become a Mystery Worshipper, start here.
1261: All Saints, Carshalton, Surrey, England
Read this report | Other comments
30 July 2006

Dear Editor

I am churchwarden at All Saints, Carshalton. The celebrant on the day the Mystery Worshipper visited was in fact a visiting preacher, as our own rector was taking a very well deserved, and very rare, Sunday off!

From the beginning of May we started serving tea, coffee and soft drinks after the 10.30am High Mass as, although we are waiting for work to commence on the provision of toilets, the churchwardens decided we could wait no longer for the opportunity for people to gather together after the service and enjoy a chat.

The present rector, a former university historian, has written a history of the church in the leaflet your Mystery Worshipper obviously was given. We are working towards opening the church more often over the weekends, as it is a beautiful and holy space with much history to see. We will be part of the Open House project later this year as our church is of considerable historical interest.

We are very fortunate in the current rector, who has brought much to the church. His sermons are excellent, and the church is moving onwards with many improvement projects, not least the toilets that are so needed, but difficult, due to the problems of building regulations and the requirements and needs to provide better disabled access as part of the works. We have installed a new lighting scheme that improves the church visually. We are about to replace the very old chairs with oak pews/benches. These will improve the overall calmness of the building and be more flexible for concerts and exhibitions.

We have mass said daily (except Mondays - the rector's day off) and choral evensong as well as three masses on a Sunday.

All in all, we were pleased with our report.

I try to meet and greet all visitors to the church, both new and old. I was helping Fr Hugh get ready for the high mass on the day the Mystery Worshipper called, so may not have been able to spend much time with him.

We welcome all who join us in our very traditional Anglican services, but are sensitive to those who wish to come and join us and remain anonymous. We are glad that the atmosphere remained with our visitor a week later and his impression was good.

Best wishes

Christine J Lindsay



We rely on voluntary donations to stay online. If you're a regular visitor to Ship of Fools, please consider supporting us.



Easter 2010

From Yunnan in China to Louisville in Kentucky, we report on Easter services, 2010. Read here.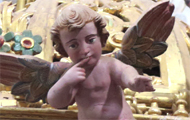 The Mystery Pilgrim

One of our most seasoned reporters makes the Camino pilgrimage to Santiago de Compostela in Spain. Read here.