What was the name of the service?
Midday prayer and eucharist.

How full was the building?
Mostly full – 30 people.

Did anyone welcome you personally?
No... but then they do know me.

Was your pew comfortable?
Solid wooden bench. I wouldn't like to sit on it for too long.

How would you describe the pre-service atmosphere?
Very quiet. The only noise was as people came in and sat down.

What were the exact opening words of the service?
"The service starts on page 6: O Lord, make speed to save us, O Lord, make haste to help us."

What books did the congregation use during the service?
Society of St Francis Office Book (a version of Celebrating Common Prayer), the English Hymnal, the Order for Holy Communion, Alternative Service Book, Rite A.

What musical instruments were played?
Piano.

Did anything distract you?
There was a small group of schoolchildren visitng the friary. However, they left before communion.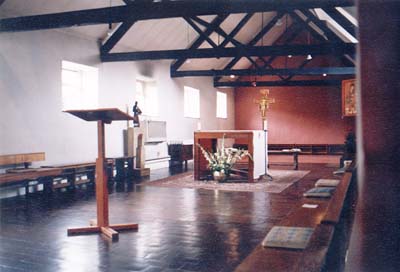 Was the worship stiff-upper-lip, happy clappy, or what?
Traditional hymns.

Exactly how long was the sermon?
No sermon – the service was made up of psalms, Bible readings, hymns and liturgy. Today was the feast day of St Alban, so a short reading was given about his life.

Which part of the service was like being in heaven?
The slow, steady reading of the psalms by all the congregation. No hurry, no hype, just a steady, persistent reading of something special.

And which part was like being in... er... the other place?
I found some of the sung responses difficult, so I didn't always join in – but I don't think anyone minded.

What happened when you hung around after the service looking lost?
As soon as the service ended, we went through to the refectory for lunch.

How would you describe the after-service coffee?
No drinks are given, but they do have four offices (services) a day!

How would you feel about making this church your regular (where 10 = ecstatic, 0 = terminal)?
7.

Did the service make you feel glad to be a Christian?
Yes.

What one thing will you remember about all this in seven days' time?
The quiet, gentle commitment of the brothers.