What was the name of the service?
Morning Prayer.

How full was the building?
Around 70 people in a church that could hold five times that with ease. The overwhelming majority were above retirement age.

Did anyone welcome you personally?
The guy handing out prayer books knows me from political circles and welcomed me eagerly. So did a lot of other people, for whom I was a new face.

Was your pew comfortable?
The pew was fine.

How would you describe the pre-service atmosphere?
Chatty. Lots of people came to talk to me, or were talking to the people next to them.

What were the exact opening words of the service?
'Grace and peace to you from God our Father and the Lord Jesus Christ.'

What books did the congregation use during the service?
The Church of Ireland Alternative Prayer Book 1984, and the Irish Church Hymnal (equivalent to Hymns Ancient & Modern).

What musical instruments were played?
Organ and 15-member, four-part choir.

Did anything distract you?
The sun was shining straight through plain glass windows into my eyes, which was a little irritating.

Was the worship stiff-upper-lip, happy clappy, or what?
Fairly traditional and as close to 'central church Anglican' as you could ever get.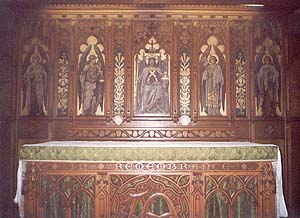 Exactly how long was the sermon?
17 minutes.

On a scale of 1-10, how good was the preacher?
6. Clear and well explained, but I would have expected better from a Bishop – maybe something inspirational.

In a nutshell, what was the sermon about?
Jesus is the bread of life. Just as there are different types of bread (plain, pan, granary, soda farls), so we encounter Jesus in various ways (word, sacrament, liturgy, prayer).

Which part of the service was like being in heaven?
Nothing particularly during the service. However, the congregation were incredibly warm and welcoming. It was a refreshing antidote to the saccharine 'fixed grin and firm handshake' I've come to expect.

And which part was like being in... er... the other place?
It was all terribly pleasant, but there was nothing really inspiring about it.

What happened when you hung around after the service looking lost?
I didn't get the chance. The choir heard my rather booming voice, and moved en masse to try to recruit me. Lots of people came up to talk to me afterwards. This felt like a church where people really matter.

How would you describe the after-service coffee?
Non-existent. Apparently, they have tea and coffee when a parishioner has something to celebrate.

How would you feel about making this church your regular (where 10 = ecstatic, 0 = terminal)?
7. The congregation is very elderly, and given the realities of ethnic division in Northern Irealnd, church growth will be very difficult. However, the church seemed liturgically sane and the people seemed so good and kind that I felt guilty at not becoming involved!

Did the service make you feel glad to be a Christian?
The service left me feeling somewhere between neutral and positive.

What one thing will you remember about all this in seven days' time?
I've never seen a choir move as a disciplined unit in the way I saw them move towards my pew after the service!