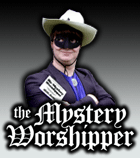 Comment on this report, or find other reports.

Our Mystery Worshippers are volunteers who warm church pews for us around the world. If you'd like to become a Mystery Worshipper, start here.

Find out how to reproduce this report in your church magazine or website.
It was an afternoon to remember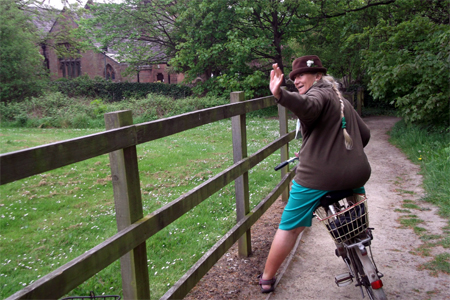 Followers of this column knew her as Torold, Gregory the Grate, Brother Basil, and Dee Cyple, among other names. No church in the Merseyside or Wirral area escaped her notice, nor did the Jehovah's Witnesses convention held some time ago in Liverpool.

But this lovely lady passed to glory suddenly and unexpectedly, but peacefully, on 12 November 2015.

No detail escaped her sharp eye, yet she had something positive to say about even the most dismal of churches, neighbourhoods or services. Neither was she shy about letting us know what displeased her.

But as much as she loved going to church, she loved the after-service refreshments equally. "I stayed and stayed – I was having so much fun I thought I'd never get home!" just about sums up her every experience. She often wrote at the end of a report: "It was an afternoon to remember!"

None of us will ever again view a church service from our vantage point in the back row of pews quite the same now that her gaze no longer enlightens us. Her many contributions to this column will always be cherished. Here is a representative sampling of the best of her work.

> Laird Street Baptist, Birkenhead
> St Stephen & St Alban, Prenton, Birkenhead, Wirral
> St Barnabas, Liverpool

> St Elisabeth the New Martyr, Wallasey
> St Luke's, Crosby
> St Faith's Great Crosby, Waterloo, Liverpool

> Swedish Seamen's Church (Gustaf Adolfs Kyrka), Liverpool
> St James, New Brighton, Wirral
> Our Lady Star of the Sea & St Joseph, Seacombe, Wallasey

> Shrine of St Walburge, Preston
> Jehovah's Witnesses UK Convention, Liverpool
> St Winefride's Well, Holywell, North Wales


More Mystery Worshipper reports



We rely on voluntary donations to stay online. If you're a regular visitor to Ship of Fools, please consider supporting us.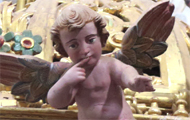 The Mystery Pilgrim

One of our most seasoned reporters makes the Camino pilgrimage to Santiago de Compostela in Spain. Read here.



London churches

Read reports from 70 London churches, visited by a small army of Mystery Worshippers on one single Sunday. Read here.