Mystery Worshipper:
Five Pints.

The church:
Gwennap Pit, Cornwall, England.

Denomination:
Methodist Church of Great Britain.

The building:
Not a building, but rather an open-air amphitheatre in former mine workings. John Wesley, preaching at outdoor assemblies in the area in September 1762, took refuge in the pit when a strong wind suddenly arose, and went on to preach to a crowd of 1000. Noting that the pit formed a natural amphitheatre, Wesley preached there 18 times between 1762 and 1789, to increasingly large multitudes. Methodist preachers continued to use the pit after Wesley's death, but it eventually fell into disrepair. In 1806 it was remodeled into the form it essentially takes today, with 13 concentric rings of continuous turfed seating, the circles decreasing in circumference from the top to the bottom. Today Gwennap Pit is a tourist attraction (admission free; donations welcome) but also serves as a venue for Methodist camp meetings, youth rallies, and worship services. Described as an historic preaching place, it is now a UNESCO World Heritage Site.

The church:
This is clearly a shrine of Methodism. Wesley called it "the most magnificent spectacle which is to be seen on this side of heaven." Since Wesley's time, there has been an annual preaching on Whit Monday and services held on Sundays in July and August, as well as on special Methodist anniversaries.

The neighbourhood:
Gwennap Pit is situated southeast of Redruth, a town in Cornwall, in the southwestern-most tip of England. It is not far from Truro, Falmouth and Penzance. The area is mostly farmland and former mining land. From my seat I could see stone cottages beside the amphitheatre, and pigs, goats, horses and chickens over the hedge in a nearby field.

The cast:
A man called Tony welcomed us, and the Revd Steve Wild, chair of the Cornwall Methodist District, led the service. "John Wesley," portrayed by actor Mark Topping, who has achieved some fame for his traveling one-man show entitled "An Evening with John Wesley," preached a sermon in the style of Wesley. The Revd Jerry Grace, a minister with the Bodmin, Padstow and Wadebridge Circuit, prayed a thanksgiving for the offertory.

The date & time:
Sunday, 16 August 2009, 3.00pm.


What was the name of the service?

Worship Service during Methodist Heritage Week. The service marked the anniversary of Wesley's last visit to preach at Gwennap Pit on 23 August 1789.


How full was the building?

The capacity of Gwennap Pit is officially given as 1500, although Wesley is said to have preached to crowds in excess of 30,000. I counted about 190 people and three dogs who were sitting on the grass tiers around the amphitheatre. During the service, people were asked to identify where they were from. This revealed a surprisingly global congregation for a quiet corner of Cornwall – there were visitors from Australia, India, Northern Ireland and the United States. I presume the dogs were locals.


Did anyone welcome you personally?

At the entrance gate, I received a warm welcome from a sidesman who looked me in the eye and handed me a hymn sheet and a carpet square. Not over the top, but I felt that he was genuinely glad to have me join their worship.


Was your pew comfortable?

It was a spacious section of grass on the top tier of the pit, directly opposite the two stone pillars dubbed Wesley's Pulpit. My seat afforded some lovely views across the surrounding countryside. I needed my carpet square and coat to sit on – after a short time I realised the grass was still a little damp.


How would you describe the pre-service atmosphere?

Expectant, with people extending friendly greetings to one another.


What were the exact opening words of the service?

"Welcome to Gwennap Pit. It's very nice to see you." Spoken by the man called Tony.


What books did the congregation use during the service?

'The Gwennap Pit Hymnal Sheet, full of great Methodist hymns. People hardly needed the words; many seemed to know the hymns by heart and sang with great enthusiasm.


What musical instruments were played?

Electric keyboard, positioned right at the bottom of the pit and amplified through two loudspeakers perched higher up on the grass.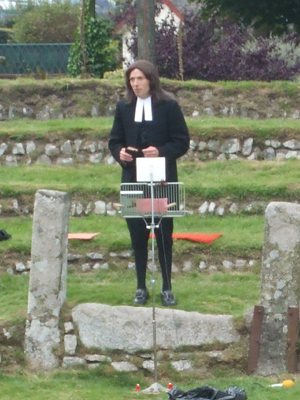 Did anything distract you?

Apart from occasional "noises off" from the animals in nearby fields, at one point the service was drowned momentarily by an aeroplane flying overhead.


Was the worship stiff-upper-lip, happy clappy, or what?

Structured, but with a natural informality. In what I have come to admire as one of the strengths of Methodist worship, Mr Wild led us effortlessly through the service, which flowed with hymns, extemporary prayer (but not too wordy), scripture, sermon, confession and thanksgiving. It had a light touch, but was utterly sensitive and appropriate to the context. Some people raised their arms in worship during the hymns. Mr Wild made several references to the place being holy ground and a gate to heaven – in short, a place where we might have an intimate encounter with Jesus.


Exactly how long was the sermon?

11 minutes.


On a scale of 1-10, how good was the preacher?

8 – (Sorry, John Wesley!) It was slightly disarming to see Mr Wesley stood before us. Mark Topping was dressed in 18th century preacher's garb and began by saying, "Two hundred sixty years ago, I preached here to 26,000 people." Earlier in the service in an interview with Mr Wild, Mr Topping revealed how his affection for the reputedly earnest Wesley had grown as he had studied him and worked as the custodian of the New Room, Wesley's chapel in Bristol.


In a nutshell, what was the sermon about?

Mr Wesley preached on Ephesians 5:8-21 (do not live as the unwise do, but as children of the light). It was a sermon very much in the spirit of Wesley, not hectoring or extreme, but expertly crafted, straightforward and direct, shot through with scripture and undergirded with the spirituality of revival and rebirth to a new life in Christ.


Which part of the service was like being in heaven?

It was the combination of the very ordinary (sitting on the grass with a damp bum in a former mining pit, surrounded by farmland) with the hope of the eternal, proclaimed so naturally through stirring hymns, confident preaching and heartfelt prayers. Down to earth, yet profound. Perhaps that's the essence of Wesleyan Methodism at its best.


And which part was like being in... er... the other place?

During a brief interlude, Mr Wild introduced his ventriloquist's puppet Clarence the Frog, complete with preacher's tab and gown. This I found to be rather irritating and a distraction.


What happened when you hung around after the service looking lost?

There was plenty of tea and cake and conversation available in the neighbouring visitor centre and chapel. Some stood around waiting to chat to and photograph "John Wesley." Mr Wild greeted me warmly, and when I told him I was a visiting Anglican, he hugged me!


How would you describe the after-service coffee?

Homemade cakes with well-brewed tea served in china cups. The cheerful ladies behind the refreshments counter in the visitor centre were made to work hard by the influx of worshippers but they coped admirably.


How would you feel about making this church your regular (where 10 = ecstatic, 0 = terminal)?

9 – But on my next visit I'll make sure to bring some waterproofs and a golfing umbrella, just in case!


Did the service make you feel glad to be a Christian?

Yes, without a doubt. It made me think how much we need the spirit and enterprise of the Wesleys and early Methodists to wake up God's Church today.


What one thing will you remember about all this in seven days' time?

Having my heart and spirit uplifted by an act of worship that helped bring an historic preaching place alive.