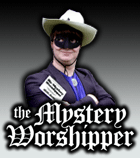 Comment on this report, or find other reports.

Our Mystery Worshippers are volunteers who warm church pews for us around the world. If you'd like to become a Mystery Worshipper, start here.

Find out how to reproduce this report in your church magazine or website.
1492: St Luke and the Epiphany, Philadelphia, Pennsylvania, USA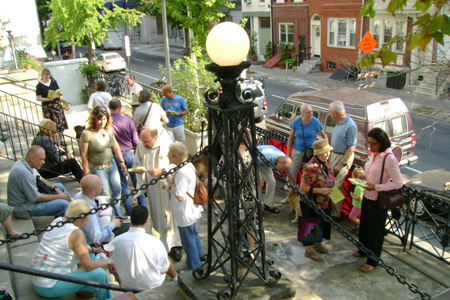 Mystery Worshipper:
Cassandra.

The church:
St Luke and the Epiphany, Philadelphia, Pennsylvania, USA.

Denomination:
The Episcopal Church.

The building:
An imposing Greek Revival structure dating from 1840. The façade features eight magnificent columns and a porch with several steps. At its consecration, a local newspaper described the interior as "exceedingly beautiful and chaste." The chancel has been extended out into the auditorium several times over the years. Both the exterior and interior are maintained in immaculate condition. It seems to be a church which is loved and cared for by its parishioners. The Church of the Epiphany, also a Greek classical structure, was closed in 1898 and the parish was merged with St Luke's.

The church:
Their website states: "We are both young and old. We are straight, gay, lesbian, bi-sexual and transgendered. We are single, partnered and married. We come from a variety of ethnic and religious backgrounds." From what I could see, the congregation included a mix of all of the above. I can't imagine anyone not feeling comfortable there.

The neighborhood:
The church sits on South 13th Street between Pine and Spruce Streets in Philadelphia's Center City, a much desired and expensive area in which to live. Converted lofts and new high-rise towers co-exist with attractive townhouses in close-knit neighborhoods, all within walking distance of the business district, restaurants, cultural institutions, supermarkets, schools and other amenities. There's a wonderful little coffee shop a block away from the church. Nearby is South Street with its Bohemian mix of shops, eateries, cafes and bars.

The cast:
The Revd Rodger C. Broadley, rector; the Revd Marlene Haines, assistant to the rector; Jonathan M. Bowen, organist and choirmaster; and others.

The date & time:
Feast of St Francis of Assisi (transferred), October 7, 2007, 11.00am.


What was the name of the service?

Holy Eucharist with Blessing of Animals.


How full was the building?

It's difficult to estimate the seating capacity due to the neo-classical wrap-around layout, especially in the balconies, but I'd say the church could hold about 1500. There were about 200 present, all sitting downstairs, which made the downstairs area quite full.


Did anyone welcome you personally?

Yes. At least two persons said, "Glad to see you," or something to that effect, as they handed us bulletins. They made our party feel very welcome.


Was your pew comfortable?

Extremely. Nice cushions on the seats, although the backrests were not cushioned but rather covered with attractive felt. The design of the cushions did not suggest that we were there to do penance. One member of our party who almost always complains about comfort remarked that the seats were very comfortable.


How would you describe the pre-service atmosphere?

Extremely friendly and informal. Of course there were many kitty-cats and doggies present on the steps of the church, where the actual blessings took place, but I feel strongly that this was the typical Sunday atmosphere, animals or not.


What were the exact opening words of the service?

Out on the porch steps, the rector briefly instructed everyone on how to present their pets for the blessing, and then read the blessing.


What books did the congregation use during the service?

In the pews were the Book of Common Prayer, Lift Every Voice and Sing II, and Wonder, Love and Praise. The handout creditably covered the essentials, though, and I didn't see anyone using the books.


What musical instruments were played?

Nice pipe organ and choir of 14. The organ, an Austin, was built in 1925 and refurbished in 1999. The choir is comprised of both volunteers and paid professionals.


Did anything distract you?

Nothing. In a church full of dogs, cats and who knows what other exotic species, there was not one bark, meow, human baby sound, dropped chalice, organ cipher or anything else that was a distraction. Sorry!


Was the worship stiff-upper-lip, happy clappy, or what?

It was a relaxed but informed Anglicanism. Many people crossed themselves at the appropriate moments and bowed as the processional cross passed (or were they bowing to the celebrant?). No smoke or bells, though, nor any hint thereof, but real signs of devotion and respect were obvious. The ordinary was a setting by John Rutter. Many of the hymns ended with rather fanciful flourishes from the organ.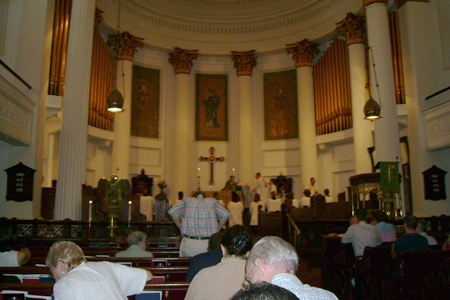 Exactly how long was the sermon?

3 minutes.


On a scale of 1-10, how good was the preacher?

10 – Father Broadley preached from the west steps of the entrance, seemingly without notes.


In a nutshell, what was the sermon about?

He preached on the story of creation as found in Genesis. God created all and saw that it was good. God, peace and love are all interconnected.


Which part of the service was like being in heaven?

There was a definite feeling that no matter what or who you were, you were welcome. The singing was creditable and enthusiastic. Two men in front of us had two little white dogs which they had rescued from shelters, one of which was deaf and blind, but which nevertheless seemed very happy and content, and safe.


And which part was like being in... er... the other place?

I missed incense, bells and Anglican chant, even if in token amounts. The Rutter ordinary was all right – there are certainly worse settings, but there are better as well, e.g. Healy Willan's Missa de Sancta Maria Magdalena.


What happened when you hung around after the service looking lost?

No one said much to any of our party. We noticed a white votive light burning in a side chapel and went in, expecting to visit the Blessed Sacrament. But the chapel turned out to be a very attractive columbarium.


How would you describe the after-service coffee?

The rector had mentioned the coffee hour very emphatically during his announcements. There was coffee, along with wonderful brownies with icing, strawberry fruits and so on. At the far end of the room was a magnificent Steinway grand piano, not a concert model but very close. I wondered if the parish allowed promising piano students to give recitals there.


How would you feel about making this church your regular (where 10 = ecstatic, 0 = terminal)?

9 – It was no St Clement's, with its unsurpassed music and ceremony, but I would heartily recommend this parish to persons who were not into those things as much.


Did the service make you feel glad to be a Christian?

Most absolutely!


What one thing will you remember about all this in seven days' time?

The beautiful Greek Revival architecture, with its pillars and wrap-around balconies and all that. I haven't seen very many other examples. And certainly the wonderful little doggies and kitty-cats, the diverse congregation and feeling of welcome.



We rely on voluntary donations to stay online. If you're a regular visitor to Ship of Fools, please consider supporting us.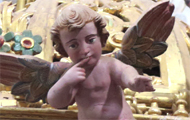 The Mystery Pilgrim

One of our most seasoned reporters makes the Camino pilgrimage to Santiago de Compostela in Spain. Read here.



London churches

Read reports from 70 London churches, visited by a small army of Mystery Worshippers on one single Sunday. Read here.