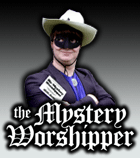 Comment on this report, or find other reports.

Our Mystery Worshippers are volunteers who warm church pews for us around the world. If you'd like to become a Mystery Worshipper, start here.

Find out how to reproduce this report in your church magazine or website.
1443: Redeemer Presbyterian, New York City, USA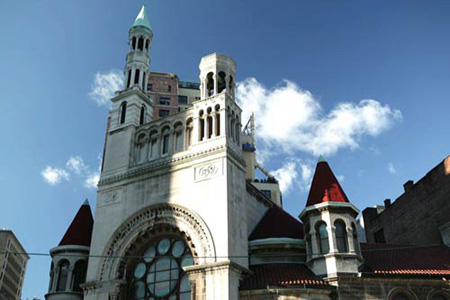 Mystery Worshipper:
Alabaré.

The church:
Redeemer Presbyterian, New York City, New York.

Denomination:
Presbyterian Church in America.

The building:
They appear not to have a building of their own, but rather meet in three different locations. The service I attended met at the First Baptist Church in the City of New York, at 79th Street and Broadway on Manhattan's upper west side. From the outside it's a nice, older, traditional looking church building. Inside, the altar stands on a raised platform in the apse, which is flooded by light from a skylight. On the back wall (where you would normally find a cross) are verses from scripture in English, Greek, and Hebrew. The pews face the altar in a gentle semi-circle, giving everyone a good view of the proceedings. As appears to be the norm in New York, the church is not air-conditioned – and it was a very hot day!

The church:
The church counts upward of 5000 souls among its members and meets in different parts of the city. Members are encouraged to join a "home group" to help them get to know each other and to facilitate personal growth. They sponsor all the usual ministries (Bible study, fellowship, etc.) but are especially keen on church plantings and missionary work.

The neighborhood:
This part of Manhattan is a lively, diverse, multi-cultural and multi-faceted area. There was a noisy outdoor market across the street from the church, where they sold pickles by the pound (among other things). There seemed to be a lot going on, as one might expect on a warm, sunny weekend in Manhattan.

The cast:
The Revd Dr Tim Keller, senior pastor and a very well-regarded preacher in the Presbyterian Church of America, delivered the sermon. The bulletin listed the Revd Mark Robinson, assistant pastor, as leading the service. However, I believe Pastor Robinson is African-American, and the clergyman who led the service did not appear to be.

The date & time:
Sunday, June 3, 2007, 5.00pm.


What was the name of the service?

West Side Evening Worship (one of Redeemer's "jazz style" services).


How full was the building?

We arrived early and took seats near the front. But by a few minutes after the service had started, the church was completely full except for the very rear of the balcony.


Did anyone welcome you personally?

An usher greeted us and helped us find seats. A woman joined us in our pew and we chatted a bit – turned out her husband went to seminary with my pastor from back home!


Was your pew comfortable?

It would have been so with one less person (it was crammed) and air conditioning.


How would you describe the pre-service atmosphere?

Rather loud, with folks talking. It was a happy "It's good to catch up with you" sort of atmosphere. A New York style of friendliness, Christianized.


What were the exact opening words of the service?

"Good afternoon, and welcome to this meeting of Redeemer Presbyterian Church."


What books did the congregation use during the service?

Everything, including the scripture reading (New International Version) and all the music (with melody lines), was contained in a 20-page bulletin.


What musical instruments were played?

Piano, guitar, saxophone, bass, drums.


Did anything distract you?

It was hot! Terrible! I'm also used to people leading music in parts, but there was only one woman leading the melody line.


Was the worship stiff-upper-lip, happy clappy, or what?

Contemporary, but distinctly jazzy rather than with electric guitars and loud noise. One song partially sung in Spanish had a very strong salsa feel to it. All of the musicians were quite good, and I've since learned that both the music leader and the soloist (for the offertory) are professionals.


Exactly how long was the sermon?

31 minutes.


On a scale of 1-10, how good was the preacher?

9 – Dr Keller is known for sermons that appeal to educated, intellectual folks. He's a very gifted preacher, and speaks at any number of large conferences and events. His points flowed smoothly and I actually felt compelled to purchase the sermon from the Redeemer website so I might listen to it again (although I don't think one should have to pay for a sermon).


In a nutshell, what was the sermon about?

Dr Keller entitled his sermon "Knowing God" and took as his text Deuteronomy 6:4-23. To know God truly we must believe in God truly, love God transformatively, trust God unconditionally, and tell God's story.


Which part of the service was like being in heaven?

At the offertory, recording artist Andy Roda sang a wonderful pop song, "Please Don't Pass Me By," along with three backup singers. I never thought I would appreciate pop music in a worship service, but the words were good and the singing was amazing.


And which part was like being in... er... the other place?

The heat! It had to be at least 90 degrees Fahrenheit (32 degrees Celsius) in there. Also, during the greeting time, everyone's "anonymous New Yorker" persona seemed to take over, and folks stood around awkwardly not wanting to greet each other (or me).


What happened when you hung around after the service looking lost?

Some people I had previously spoken with spoke to me again as we all shuffled out. I wandered around the coffee hour, but no one else said anything to me. Finally I perused some of the offerings at a book table, and the lady running the table recommended several to me. I purchased one.


How would you describe the after-service coffee?

There was coffee (fair trade) and a standard assortment of cookies. Chips and hummus for the yuppie set. It all looked good, but I wasn't hungry.


How would you feel about making this church your regular (where 10 = ecstatic, 0 = terminal)?

8 – If I were to move to New York, I would visit again. But it's just so very big – I might look for a smaller church to be my regular.


Did the service make you feel glad to be a Christian?

Yes. Sometimes we think of New York as a place not very friendly to Christianity, so it was good to know God is building his Church there as well.


What one thing will you remember about all this in seven days' time?

The sermon, and the offertory.



We rely on voluntary donations to stay online. If you're a regular visitor to Ship of Fools, please consider supporting us.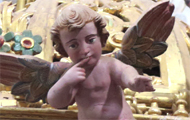 The Mystery Pilgrim

One of our most seasoned reporters makes the Camino pilgrimage to Santiago de Compostela in Spain. Read here.



London churches

Read reports from 70 London churches, visited by a small army of Mystery Worshippers on one single Sunday. Read here.