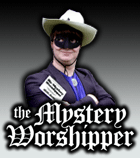 Comment on this report, or find other reports.

Our Mystery Worshippers are volunteers who warm church pews for us around the world. If you'd like to become a Mystery Worshipper, start here.

Find out how to reproduce this report in your church magazine or website.
1243: ChristChurch, London Bridge, London, England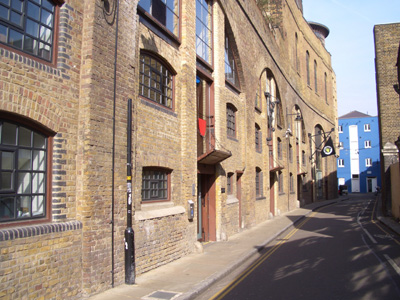 Mystery Worshipper:
Sabbatarian.

The church:
ChristChurch, Vinopolis, London Bridge, London, England.

Denomination:
Newfrontiers, described on their website as "a worldwide family of churches together on a mission to establish the Kingdom of God."

The building:
ChristChurch meets in Vinopolis, a wine museum and conference centre on the South Bank, near London Bridge, tucked behind the Borough Market. It is an old building but thoroughly modernised. There was not much wine on view for the service, but it is clearly a well managed venue.

The church:
ChristChurch was planted in 2004 by David and Philippa Stroud, who have been active in church leadership for about 15 years. David also leads the UK Newfrontiers team. ChristChurch's website describes the numerous programs the church sponsors.

The neighbourhood:
This is an area that was once notorious for urban decay, but has witnessed much redevelopment over the past decade. Attractions include Borough Market, Tate Modern and the Globe Theatre.

The cast:
The meeting was led by Adrian Holloway and the preacher was Terry Virgo. The name of the worship leader was not given but the website reveals that he was Rhys Scott.

The date & time:
5 March 2006, 4.30pm.


What was the name of the service?

Sunday meeting.


How full was the building?

Packed. I would guess about 300 people.


Did anyone welcome you personally?

The entrance to Vinopolis is narrow and there was a crowd of people at the door, some of them wearing black t-shirts with "Host" emblazoned on them. This could have been a little intimidating, but everyone seemed very friendly and welcoming. People immediately introduced themselves when I sat down.


Was your pew comfortable?

It was a typical padded conference-venue type chair, blue cloth, metal frame. And perfectly comfortable, although a little too close to my neighbour.


How would you describe the pre-service atmosphere?

Humming – lots of noise and chat.


What were the exact opening words of the service?

"Good afternoon. Let's begin our time of worship."


What books did the congregation use during the service?

No books. The song words were projected onto a screen above the worship leader's head.


What musical instruments were played?

Keyboard, electric guitar, bass, drums, and two vocalists.


Did anything distract you?

The squeal of trains braking and rumbling overhead as they approached London Bridge cut through the proceedings. I like trains, though, so I really didn't mind the intrusion.


Was the worship stiff-upper-lip, happy clappy, or what?

It was loud and happy. Throughout the worship, church members came up to the microphone with extempore prayers, scripture readings, etc. There was quite a lot of dancing and bouncing around.


Exactly how long was the sermon?

58 minutes.


On a scale of 1-10, how good was the preacher?

9 – Terry Virgo must be one of the foremost preachers in the UK. Although the sermon was longer than the average, it was entirely engaging and touched on many personal issues.


In a nutshell, what was the sermon about?

Grace. Justification in Jesus Christ means that we are free from condemnation and do not need to find our peace on the grounds of our behaviour. Christ's life and death have satisfied the law and bring us into freedom. Grace frees us from the curse of the law and enables us to live righteous lives.


Which part of the service was like being in heaven?

Terry Virgo's preaching on grace felt pretty heavenly.


And which part was like being in... er... the other place?

By 4.30pm on a Sunday I am normally ready to settle down to hot buttered crumpets and TV's Antiques Roadshow. Vinopolis was very warm and the only lighting came from theatre-style cans. This meant that despite the excellence of the preaching and the energy of the worship, there were a couple of times when my head jerked backward in a hellish moment of uncontrollable sleepiness.


What happened when you hung around after the service looking lost?

My friend who accompanied me is a member of ChristChurch, and so I was introduced to a number of people. But others came up to me spontaneously.


How would you describe the after-service coffee?

I didn't have any, although there appeared to be lots of it, served from conference style thermos flasks in Starbucks type cups. I stuck to cold water in an attempt to rehydrate myself.


How would you feel about making this church your regular (where 10 = ecstatic, 0 = terminal)?

7 – ChristChurch felt like an exciting place to be, but it was almost entirely made up of people in their 20s and 30s, and I prefer a church which also has babies and grannies.


Did the service make you feel glad to be a Christian?

Definitely.


What one thing will you remember about all this in seven days' time?

Could this be the next Hillsong?



We rely on voluntary donations to stay online. If you're a regular visitor to Ship of Fools, please consider supporting us.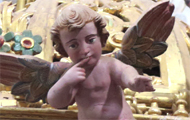 The Mystery Pilgrim

One of our most seasoned reporters makes the Camino pilgrimage to Santiago de Compostela in Spain. Read here.



London churches

Read reports from 70 London churches, visited by a small army of Mystery Worshippers on one single Sunday. Read here.