From Calvinist chocolates to rubber ducks...

Welcome to our annual list of 12 "What Would Jesus Buy?" gifts, as sourced by shipmates around the world. See days 2 to 4 to find out how kitschmas can help you get through the financial crisis!

Click here for the 12 Days of Kitschmas homepage.
6th day... Papal caganer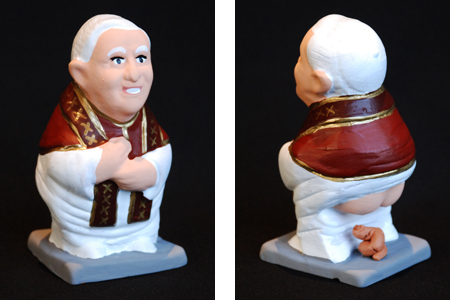 "Ox and ass before him bow," we sing. And if you thought that was just about donkeys, look again. Quietly, reverently, Papa Benny delivers a full papal moon at the nativity, then deposits a humble offering on the ground – a close encounter of the turd kind.

Caganers are traditional figures made for Catalonian manger scenes. Along with Mary, Joseph and the rest of the Christmas cast, the Catalans also dump a character in a corner of the stable, with his pants down, quietly doing his business. Some say it's just for laughs. Others think there's an important theological point being made about the earthiness of the incarnation.

Either way, the papal stool is a valuable addition to any crib scene. And you'll be relieved to know Poop Benedict can be in yours for just 14 Euros. Get yours here!

The 12 Days of Kitschmas





7th day... John Calvin chocolates



Ship of Fools mugs!

Order Ship of Fools mugs... five inspired designs. Click here.