From Calvinist chocolates to rubber ducks...

Welcome to our annual list of 12 "What Would Jesus Buy?" gifts, as sourced by shipmates around the world. See days 2 to 4 to find out how kitschmas can help you get through the financial crisis!

Click here for the 12 Days of Kitschmas homepage.
7th day... John Calvin chocolates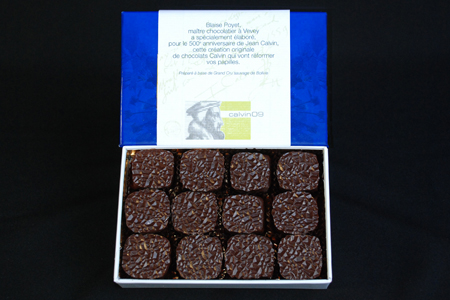 Yes, next year is the 500th anniversary of the joyous birth of the man who gave the world Calvinism. John Calvin is 500! And what better way to celebrate the birth of the dour, ascetic Reformer than by getting a Swiss chocolatier to create a luxury box of chocs? In other inappropriate news, the new John Knox lingerie range is being launched in the new year.

The Federation of Swiss Protestant Churches gave Genevan chocolate man Blaise Poyet the unenviable job of finding a way to represent the person and work of Calvin. "It was an interesting challenge," said Poyet, graciously. "It's not easy to represent theological ideas using taste buds. The first layer of the sweet was based on a smooth, runny praline mix. But we have reformed it."

Whatís in the box? Sadly, we havenít sampled them yet, but weíre looking forward to: Orange Delight, Papal Finger, Caramelised Heretic Crunch, Religious Nut Whirl, Chocolate Heaven Surprise (the surprise being that you canít get into it), and No Liberal Fudge.

Is it total depravity? Or irresistible grace? Buy a box and let us know. Just CHF (Swiss Francs) 21.50.

The 12 Days of Kitschmas





8th day... Happy holidays Barbie



Ship of Fools mugs!

Order Ship of Fools mugs... five inspired designs. Click here.