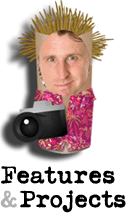 The story so far...

You're currently on our features and projects pages, with material ranging from the satirical to the theological. For more features, click here.


Born Again Testimonies

Were you brought up in a Christian home? Did you become a believer at Sunday School? Do people yawn and walk away whenever you share your dull testimony?

Are you consumed by envy as you read the latest celebrity testimony, complete with car chases, shoot outs, kung fu fighting with criminals... and a final, glorious conversion?

If ever your testimony needed to be born again, it's now! Find out more by playing our testimony-enhancing video!

And on a completely different subject, read about the meltdown of "true-life story", Taming the Tiger.