Although we've concluded our poll, you're welcome to send us your worst verse and join in the debate – click here!

It could be a verse which is irredeemably naff, mind-numbingly boring, or a verse which you find offensive or cruel. Please send us your nomination for worst verse here. And go here to join the online debate about the verses we've received.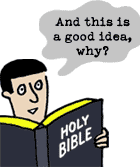 Because the Bible is probably the most important book ever, but it sometimes seems that the only people who care about it are rival gangs of fundamentalists, Christian and atheist, determined to beat it into the shape of their own prejudices.

We want to rescue the Bible from their rival takeover bids. We want to take it out of the hands of people who hit you over the head with it.

It doesn't have to be a textbook of infallible information and unbreakable laws to be God's book. And it doesn't have to be one big pile of lies and atrocity just because it has its dodgy bits.

We want to remind non-Christians that Christians can see the flaws of their own faith as well as others can. And we want to remind Christians too.

Let's have a bit of balance, shall we?