From Calvinist chocolates to rubber ducks...

Welcome to our annual list of 12 "What Would Jesus Buy?" gifts, as sourced by shipmates around the world. See days 2 to 4 to find out how kitschmas can help you get through the financial crisis!

Click here for the 12 Days of Kitschmas homepage.
12th day... Nativity rubber ducks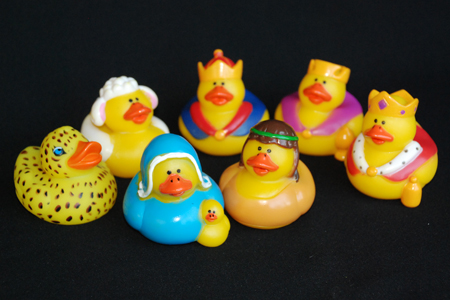 Perfect for Baptist churches, we present the world's first water-resistant nativity. Yes, it's the decisive moment in salvation history presented in the medium of the rubber duck. Take them home with you and you can remember the Bethlehem story while wallowing in a hot bath.

Featuring: Joseph sporting a Beatles moptop... three bird-brained wise men, the famous spotted duck of Bethlehem, and the Blessed Virgin in blue with the Holy Duckling tucked under her wing – having just laid (and then hatched) him in a manger.

Best of all, there's the duck at the back who's been crossed with a sheep. Perhaps he's the smartest of the lot. He's probably realized the awful truth – that for ducks, the future isn't bright. The future's
à l'orange
.

Get your nativity rubber ducks here for $3.95.

The 12 Days of Kitschmas



Ship of Fools mugs!

Order Ship of Fools mugs... five inspired designs. Click here.