Our top seven gifts for the downturn

Banks failing. Economies recessing. And now Lent. How much more can we take? Discover some less-than-comforting godly gear to help spread the gloom.

See all seven gifts
213: Talking, light-up rosary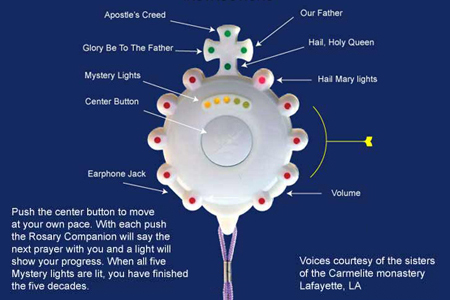 Ultimately, you can't take the suffering out of full-on faith. No pain, no penance. But there are always those among us trying to soften the blow, tempting weaker brethren to take the wider path that leads to spiritual destruction. Take, for example, a company from Louisiana, who have razzed up the rosary – combining early learning-styled chunky plastic with push buttons and dazzling flashing lights.

This hi-tech rosary is deemed perfect for a child's first communion. "With voices courtesy of the sisters of the Carmelite Monastery, Lafayette, and a catchy layout, the Rosary Companion is sure to get your child's attention," recite its makers.

Sadly, the talking rosary's carefully rounded edges fail to deliver any physical discomfort to the young user. Beware, then, of the product's limited devotional appeal in these austere times.

Push the button here for your talking rosary – $29.99.

Next: Calendar of indulgences




Click: Calendar of indulgences



Spotted a Gadget worthy of these pages? Let us know about it!