5. Bible Message Camera
---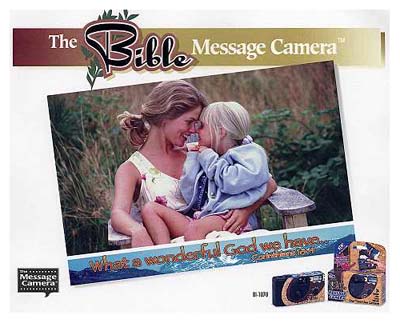 A gift for proselytizers everywhere, the Bible Message Camera offers you the perfect opportunity to witness while boring everyone to death with pictures of the dog on vacation.

Pre-loaded with 35mm "Special Message Film", this $14.95 camera brands your photos with 24 inspirational verses from the Bible in a unique, clash-with-the-photo-itself style. What better way to accent the memories of the kids' birthday parties than with various non sequitur verses? It can even be re-used, but be warned: unless you reload with "Special Message Film", the camera will lose its religion.

Click here for further info and ordering.
---

Top | Previous | Next | Kitschmas List

© Ship of Fools 2000