4. Communion Refrigerator Magnets
---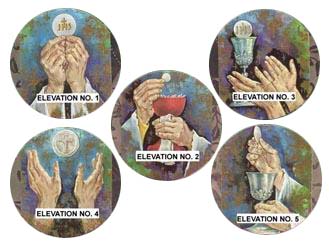 We searched for months to follow up last year's hugely-popular Virgin Mary Fridge Magnet Set. But when we saw the Communion Refrigerator Magnets, we knew it would be food and drink for Kitschophiles worldwide.

We think you'll get totally attached to the Five Elevations of the Host, each 3-inch button "covered with a clear plastic disc and a metal bottom, making it a durable rubberized magnet." Raiding the refrigerator at 3.00am just got much harder, thanks to this highly-charged guilt-inducer. Cost: $3 per button.

Click here for further info and ordering.
---

Top | Previous | Next | Kitschmas List

© Ship of Fools 2000