12. The Ten Commandments in Granite
---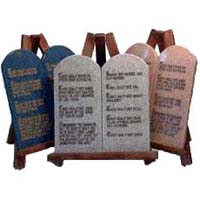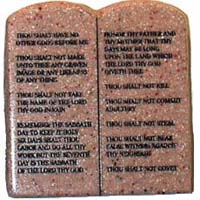 Isn't it about time you ditched your paper version and bought Moses' Greatest Hits in this newly-available format: solid granite?

Empirico International Trading Company, from Glendale, Arizona, have produced a giant 14-inch high version of the famous tablets (with matching wooden easel), which is apparently "perfect for home, office, church or synagogue." There's also a pocket-sized version – although carrying solid granite in your pocket might attract some commandment-breaking, Mae West-style comments.

Available in English, Spanish and Hebrew, this is a must-have present for Calvinists and other "thou shalt not" types. $119.00 for the 14-inch, and just $13.00 for the proud 3.5-inch.

Click here for further info and ordering.
---

Top | Next | Kitschmas List

© Ship of Fools 2000