9. "Wash Away Your Sins" Soap
---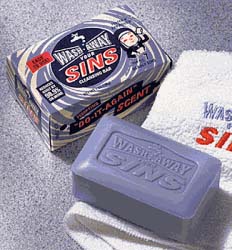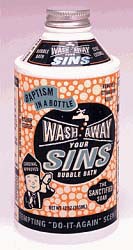 Can't shift Catholic guilt? Want to get rid of iniquitous grime? Do other soaps promise much but fail to tackle that "unclean" feeling? Why not try new, improved, "Wash Away Your Sins" Soap?

While other soaps merely skim the surface, this biblical blend of Somalian frankincense and Indonesian nutmeg and ginger (in a 100 per cent vegetable oil base) lathers your soul and drives those troublesome sin blots down the plughole. Make "cleanliness is next to godliness" a reality: only $8.00 for seven ounces of creamy righteousness from the oldest soap makers in New England.

Also available: matching bubble bath. This baptism in a bottle is "Bishop tested and Cardinal approved" – a snip at $12.00.

Click here for further info and ordering.
---

Top | Previous | Next | Kitschmas List

© Ship of Fools 2000