2. "Birth of Christ" Tribute Guitar
---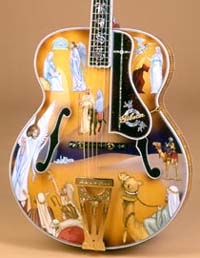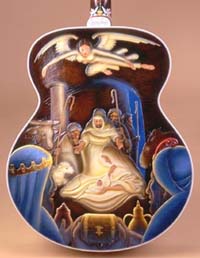 Back in the year dot, an angel choir provided the music for the birth of Jesus in Bethlehem. This Christmas, 2000 (or so) years later, the music is being done by the Gibson Guitar Company, which "celebrates the birth of Jesus Christ with its most elaborate tribute guitar ever created."

According to the company's website, a talented team at Gibson has been "researching, designing, and crafting this one-of-a-kind tribute to the Son of God." Every square inch of the guitar has been used to tell the nativity story, and the detailed work includes a mother-of-pearl inlay of the word "Jesus Christ" on the fingerboard, and angels playing hand-cut 14-carat gold trumpets.

The entire Christmas cast appears, except that there are only two wise men. The third wise one is you, dear reader, because the whole story is told with you in his or her place.

Click here for further info and public display details.

Thanks to mousethief for alerting us to this guitar.
---

Top | Previous | Next | Kitschmas List

© Ship of Fools 2000